Posts: 368
Joined: Wed May 25, 2016 6:25 pm
That is a fair point, maybe that was their intent with it?
---
I think so. It was too easy for it not to be intentional, yeah? I mean, clearly they KNOW how to challenge the player, given what you just went through, ha ha.

I'm super curious to know what the December DLC will be. Excited!
---
Posts: 368
Joined: Wed May 25, 2016 6:25 pm
I wonder if they'll reveal what the DLC will be about at E3 or at least tease it? I too am excited.
In regards to the overall game, as fantastic as it is, I think it is super exciting to see places where they could build upon it and make it even more amazing. That is why I hope they stick with the engine and focus on created a new game with it, that way we can get it sooner and two the engine still has a ton of potential.
---
I don't see much of a reason why they would start over with a whole new engine for the next one. Even if the game was dramatically different, it will probably come out on Switch (unless the Switch flops, or DLC takes the place of another true Zelda game for a while) so keeping the engine makes sense to me!

But who knows, I guess. I don't expect much Zelda-related at E3, because they have to hype Splatoon 2 and Mario Odyssey (or rip the band-aid off that Odyssey is pushed to next year, which would be my guess). What I'd really love to see is a hint/teaser for what the heck Retro Studios is up to. But that's wishful thinking, and a whole different thread, ha ha.
---
Well, someone here felt he should try out that item cloning glitch that was discovered recently: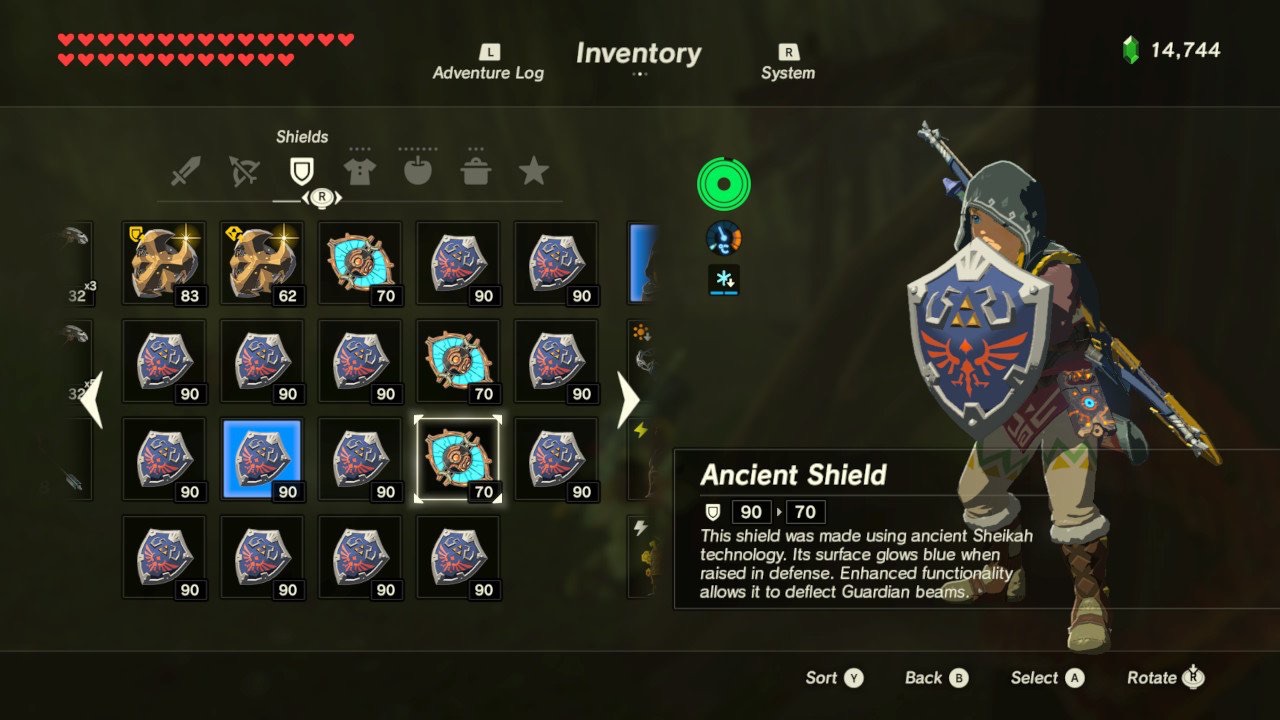 Pretty neat really. Never gonna need to replace the Hylian Shield now I've got 13 of them!
As for how I did the glitch... well there's a handy video about that here:
It's not too hard to pull off, just very bad for your health with all the shock arrows flung around.
---
I never had the need to replace it with just one...
---
I didn't know that shield was in the game! Cool, I will look for it on my second playthrough next year.
---
Posts: 748
Joined: Wed May 25, 2016 11:10 pm
Location: Michigan
Contact:
Is anyone still playing this game? How are things going?
---
Nope, I've completed it. I may jump back in when the second DLC pack hits, it'll depend on what it contains.
---
Posts: 748
Joined: Wed May 25, 2016 11:10 pm
Location: Michigan
Contact:
Not the first? (I probably won't until pack 2 either to be honest… maybe just to download pack one anyway).
---